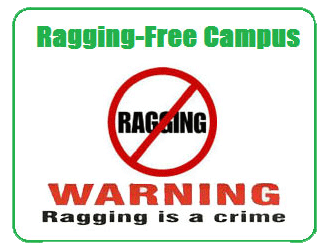 Be a change-maker! Make your campus Ragging-free!
Ragging in any form is banned at the R. P. Sharma Institute of Technology, Patna. It is a punishable offence according to one of the recent guidelines of the Honorable Supreme Court of India. R. P. Sharma Institute of Technology Patna has 'zero-tolerance policy' on ragging. The Institute will take disciplinary action if any student/students is/are found guilty.
Hence all students are advised not to indulge in ragging and also discourage other students from indulging in any such activity. All students are expected to behave as responsible citizens and be accountable for their actions.
All senior students must realize that they have some moral duties towards the institute and must come forward to help in establishing a ragging free environment for the fresher's. They should show helping and cooperative attitude towards new comer students.