10,000+ Alumni working worldwide
About
RPSIT
The Institute was established in the year 1980 in the name of Patna Institute of Technology by Late Prof. R. P. Sharma, the benevolent founder of Patna Educational Development trust. He nurtured the institute with personal care and foresight to bring technical education within the reach of common man. Under his imaginatic, dynamic and able guidance, the institute made glorious stride and developed as a full-fledged Engineering Degree College, Approved by AICTE, New Delhi, affiliated to Bihar Engineering University, Patna and SBTE Bihar , Recognized by Science & Technology Department, Govt. of Bihar.
OUR
FOUNDER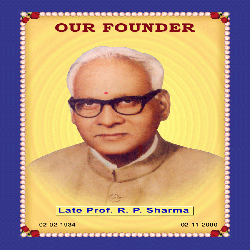 Late Prof. R.P.Sharma
I am a Rno Engineer at Metrotelworks which offer end to end wireless telecom network planning, optimization, and performance management solutions to 30+ Tier 1 & 2 telecom operators and OEMs across the globe. I was an alumuni of RPSIT ,Patna (2013-2017) Batch. RPSIT provided me such platform which helped me devloping my entire persona in every possible way. It did help me explore various interest of mine from intellectual growth to personal Development on a profound level. The faculties were always ready to push you upward & help u accordingly.

Amulya Roy
RNO Engineer at Metrotelworks, Philipinnes (Manila)
Great Work "I am running an IT consultancy which provide services to Public Sector Clients in UK. RPSIT, Patna provided an opportunity for intellectual and academic development.It was a place where I could explore my interests, develop critical thinking skills, and gain a deeper understanding of various subjects. This intellectual growth led to developing important life skills such as time management, organizational abilities and interpersonal communication."

Piyush Anad
Director, Aceapps IT Solutions, London, UK.
I feel proud to call myself #BrandAlumiRPSIT. "I have studied B.Tech in CSE and graduated in 2006. I have built close-knit relationships with my classmates and teachers and has been an amazing experience for me that has helped me grow personally and professionally. Faculty put tremendous effort to mould the raw student to a successful engineer and help them grow in every aspect of life. Our Alumni has a strong base across continents and has very powerful Alumni Association (RPSITAA) helping each other.I wish my alma mater and alumni huge success."

Kumar Vijay Shankar
Software Engineering Manager, Amdocs Inc, Texas, USA
Admission to B.Tech. (Regular and Lateral Entry) and Diploma (Regular and Lateral Entry) are made through Entrance Test conducted by Bihar Private Technical & Professional Institutions Associations ( BPTPIA).The candidate can apply online for admission or Download the application form and submit the duly filled application form at Institute's office.
Candidate seeking admission in MBA can apply online through Download or apply directly in the Institute's office.
Tentatively by the end of April.
RPSIT is duly recognized by Department of Science & Technology Bihar and is Approved by the All India Council of Technical Education, New Delhi and is affiliated to Bihar Engineering University Patna and State Board of Technical Education, Bihar.
University-Institute code affiliated to Bihar Engineering University Patna for B.Tech & MBA Course is 139,
Board- Institute code affiliated to SBTE Bihar for Diploma Course is 191